Account for breaks between meetings in outlook when planning
Chances are real that you have been working from home for a while now and that (like it is the case with me) your days are filled with online meetings. Those meetings are typically planned back to back, leaving no room for a little break. Those little breaks were typically inherent to switches between meeting rooms or even a little run to the bathroom.
The last few months, I found myself more and more in a situation where I had all day meetings without any sort of break in between to get me a coffee or to recharge mentally. In that context, I'm certainly not alone. I was thus not surprised to see that MicroSoft recently announced a new policy stating that 1h meetings will default to 55 minutes,
When I told a colleague about this policy, he told me that it was a good idea, but very difficult to achieve since Outlook always defaults to full timeslot meetings (30, 60, 90,... minutes) without taking into account this new notion.
I was thus quite surprised this morning when a colleague told me about that this setting in fact exists in outlook! And it is really easy to change the setting!
Go to the outlook options: In outlook, click on File, then on options
Click 'Calendar'
In Calendar options, check the 'End appointments and meetings early' and specify the options for short and long meetings(typically 5 or 10 minute breaks). 👉 I kept the default
That's it: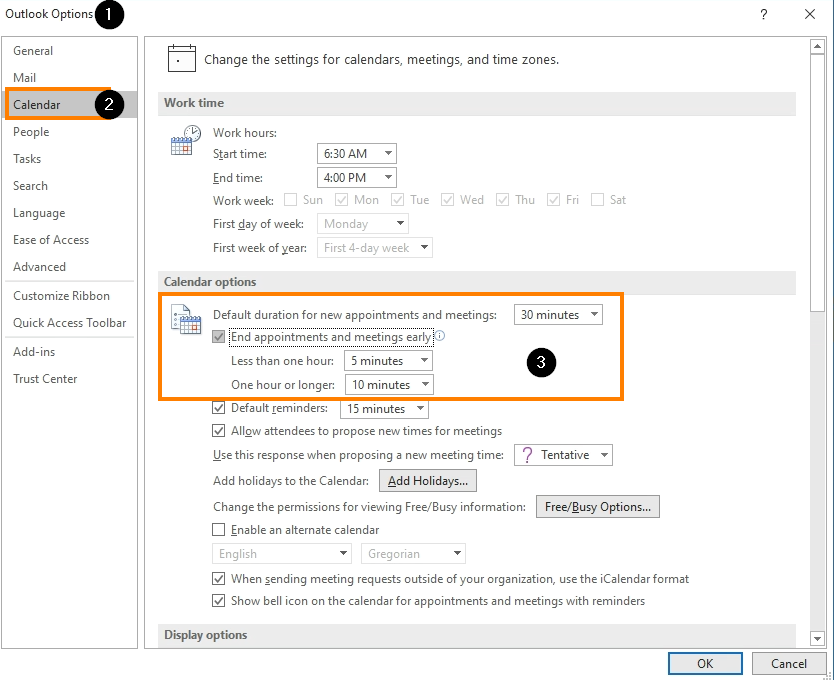 The result should be visible immediately when you plan a new meeting as can be seen below: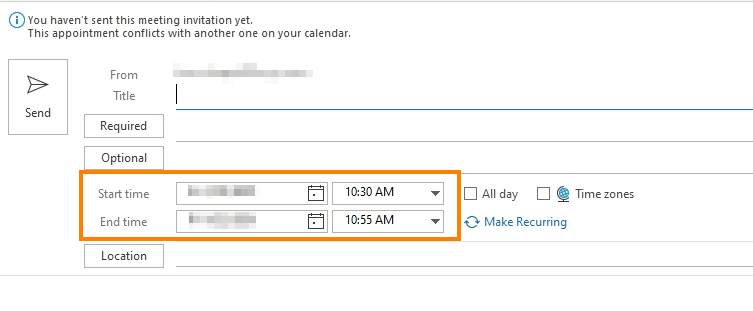 This little change will give you some time between meetings and it will save you from a lot frustrations!
Pro tips:

Make sure that your colleagues apply the same change so that all meetings are organized like this!
The web client in Office365 has the same setting if this is your preferred working environment.
Edit: In order to encourage my colleagues to also work like this, I created an email signature in outlook that I apply when sending out a meeting invite. In case you need some inspiration, you can copy my text from the image below: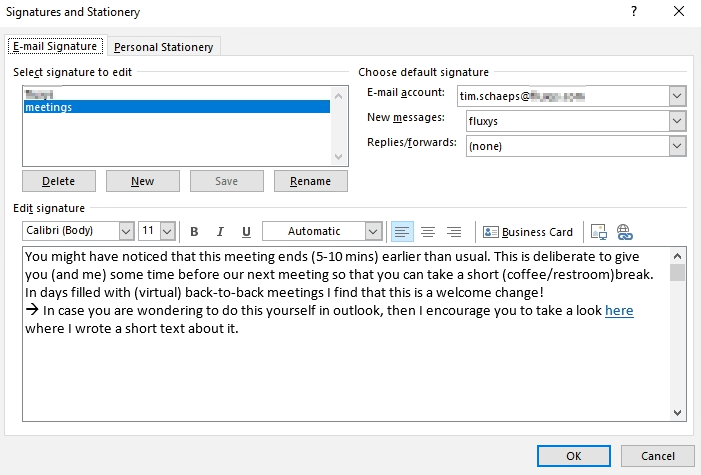 The text in case you want to copy it:
You might have noticed that this meeting ends (5-10 mins) earlier than usual. This is deliberate to give you (and me) some time before our next meeting so that you can take a short (coffee/restroom)break. In days filled with (virtual) back-to-back meetings I find that this is a welcome change! 👉 In case you are wondering to do this yourself in outlook, then I encourage you to take a look here where I wrote a short text about it.
Enjoy!