FindTime: Easier planning of meetings (even between companies)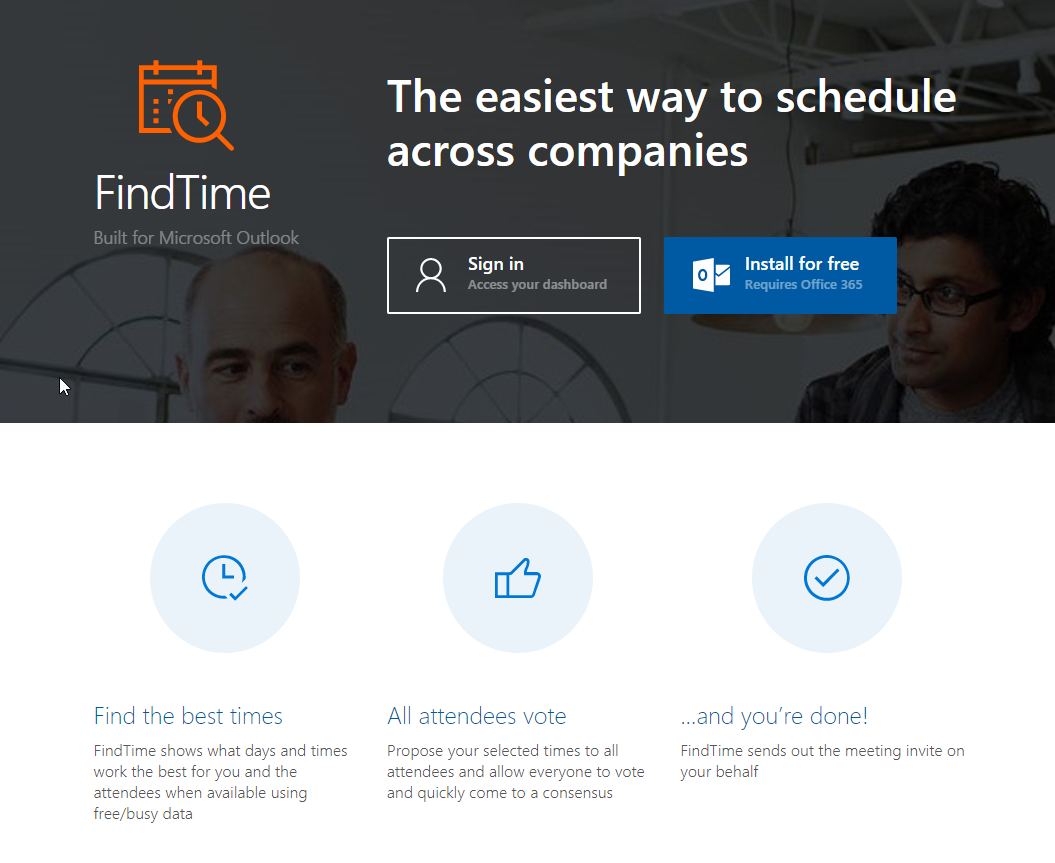 In some organizations, finding a moment to discuss something with the right stakeholders, is such a painful undertaking that you have to plan weeks in advance (only to get cancellations just before "the big moment" arrives). This is a real issue that a lot of people have to deal with on a (very) frequent basis. If you then add the complexity of having to add people from outside of your organization, then it really becomes fun. If you have been in such a situation, then you can most likely agree that it is a process that takes a lot of time and effort and it even gets harder when the group of "invitees" gets bigger or when the amount of organizations, that are involved grows.
What
That is why I was super-surprised when I got a mail of Tom Mertens, who is a contact at Microsoft, with some options for timeslots that suited for him. I selected the ones that suited me, and literally a few seconds later our meeting was 'confirmed'! I was so surprised that I asked him whether he was "standing by to confirm our meeting".
His answer was:
Ah no, I use https://findtime.microsoft.com . It is really cool, you have to take a look at it! You'll like it (not his exact words 😃)
A few minutes later I was checking it out. I remembered having looked at it a few years earlier, but at the time it just wasn't this sophisticated.
FindTime is a tool/platform/plugin that is created/provided by Microsoft and allows you to easily plan meetings with people of which you cannot see their calendar and with whom planning meetings would typically take longer than planning the meeting itself. It offers some cool features and it can be compared to doodle , but this with the difference that:
it is designed for and integrates with your office365 calendar ➡️ This means that the organizer needs to have an office365 account
you can select people from inside and outside of your organization
it allows you to select slots from your calendar
these slots are "reserved" (as tentative) while the poll is running
you can immediately see if a timeframe is difficult for colleagues within the organization
after all re results are in, the platform selects the best fit and plans your meeting
This all means that you only have to take care of the initial steps and that all the rest is taken care of for you, which is quite neat if you ask me!
How?
Installation/activation
Getting started is easy! In the calendar view of your your (web) outlook, create a new meeting(invite), here you have the possibility to add "add-ins": First click on the 3 ellipses almost of the right of the top bar, in the dropdown, click "Get Add-Ins"

In the pop up that opens, you'll get an overview of add-ins that can be installed. Search for FindTime and then click "add":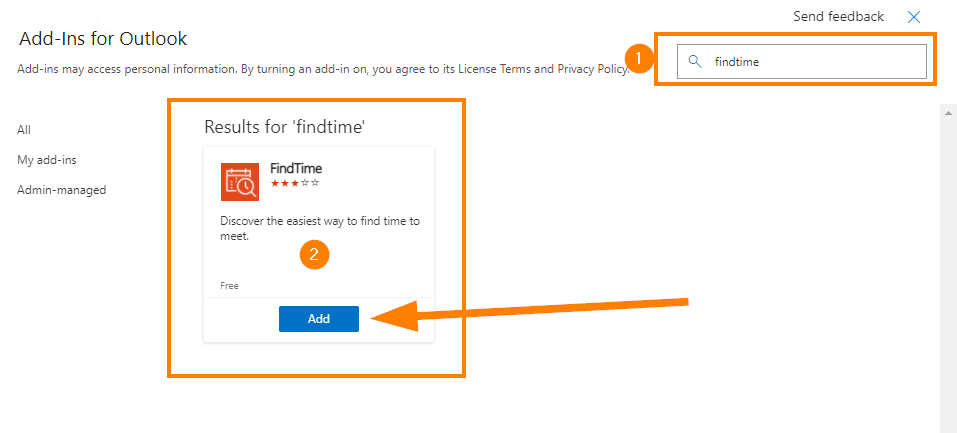 There is a popup that points out the license and privacy terms that you must agree to: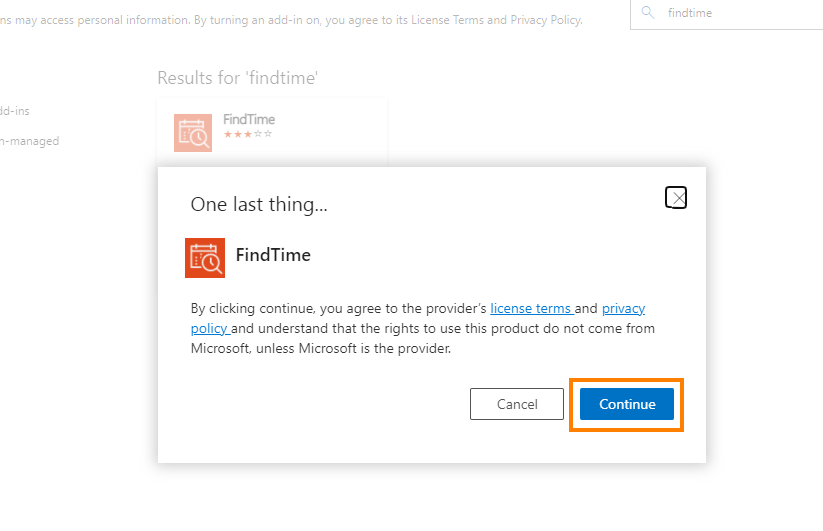 To conclude, there is a window that points out where you can find the FindTime Add-in. In short, these are the main locations:
Composing a mail
Composing a meeting invite
Reading a mail
Reading a meeting invite
Getting started (Planning a meeting!)
With this in place, it is now the moment to get started with "actually planning a meeting"!
The main idea is that you can activate the add-in by clicking it and at that moment you will be guided in the process of setting up a search for a ideal moment! You can start by searching for the FindTime logo as shown below:

When you have done this, you get a flyout with a quick demo on how to get started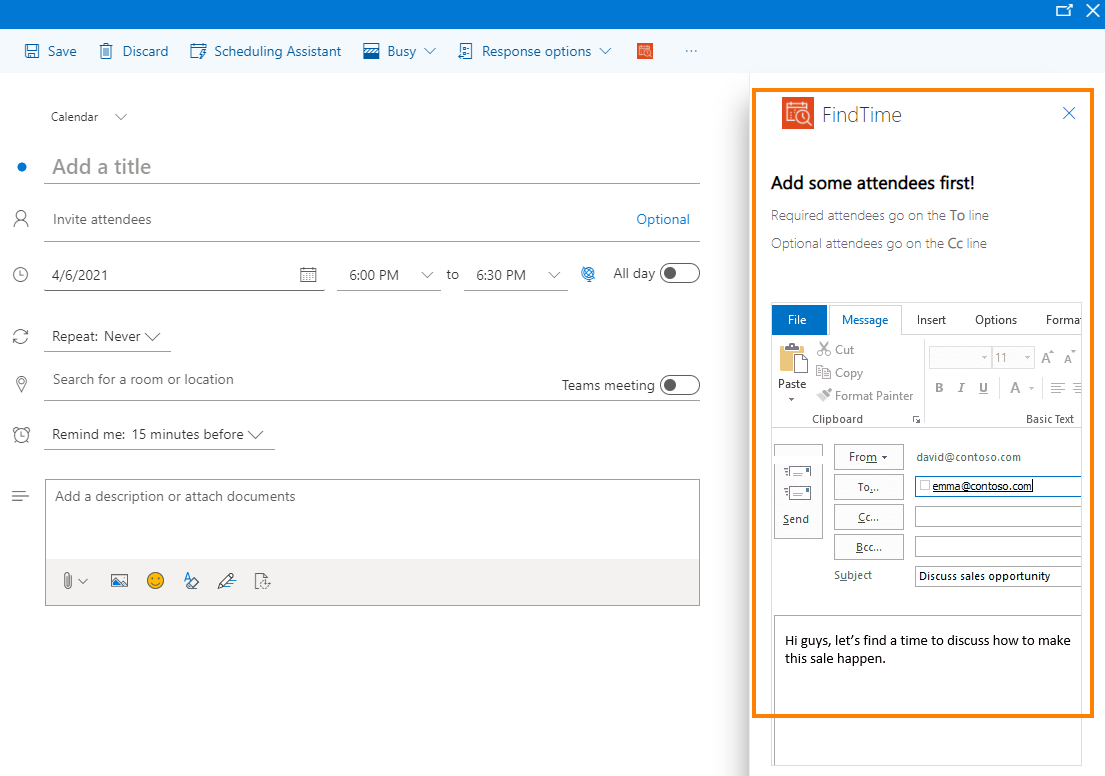 After that, you need to add people to your add and cc fields and then you can start selecting timeslots that suit you: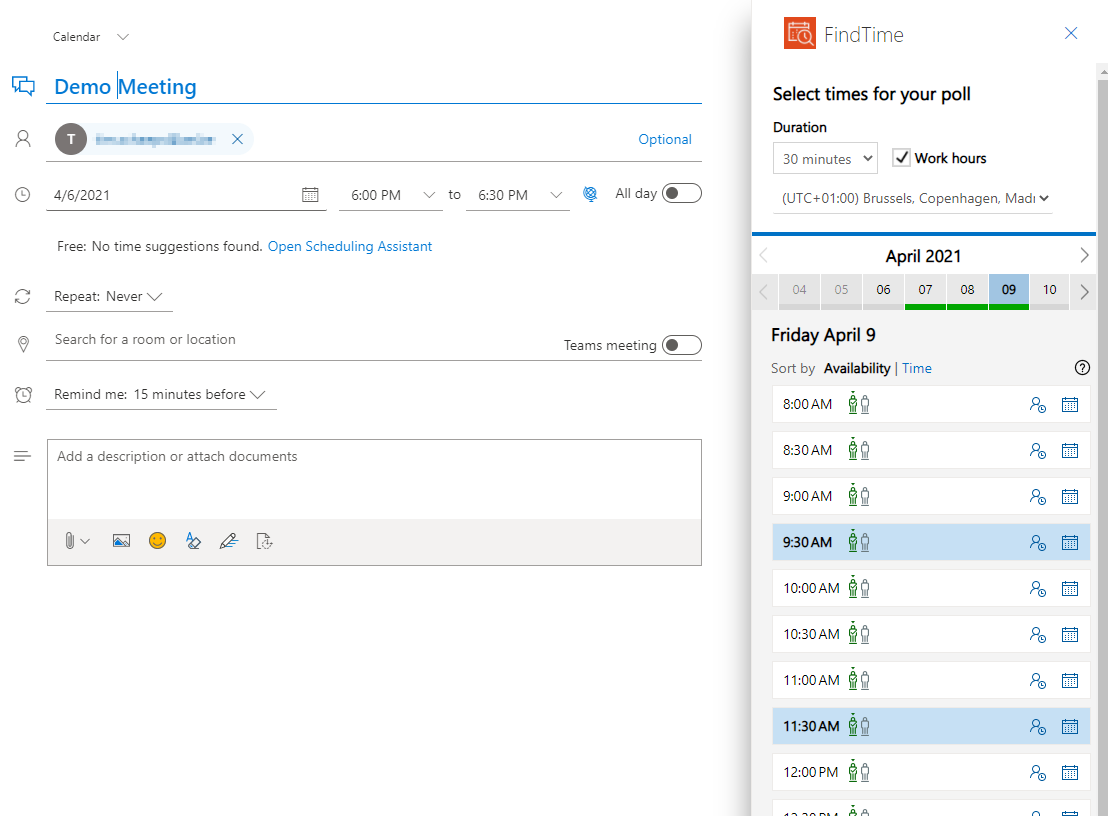 Next step is to configure some "poll settings" and to confirm your "selected times". These settings comprise:
notifications about poll updates
auto scheduling (The one that surprised me)
hold selected times in my calendar: the chosen moments will be "blocked" in your calendar. This is extremely useful when you calendar evolves really fast 😃
lock poll for attendees
...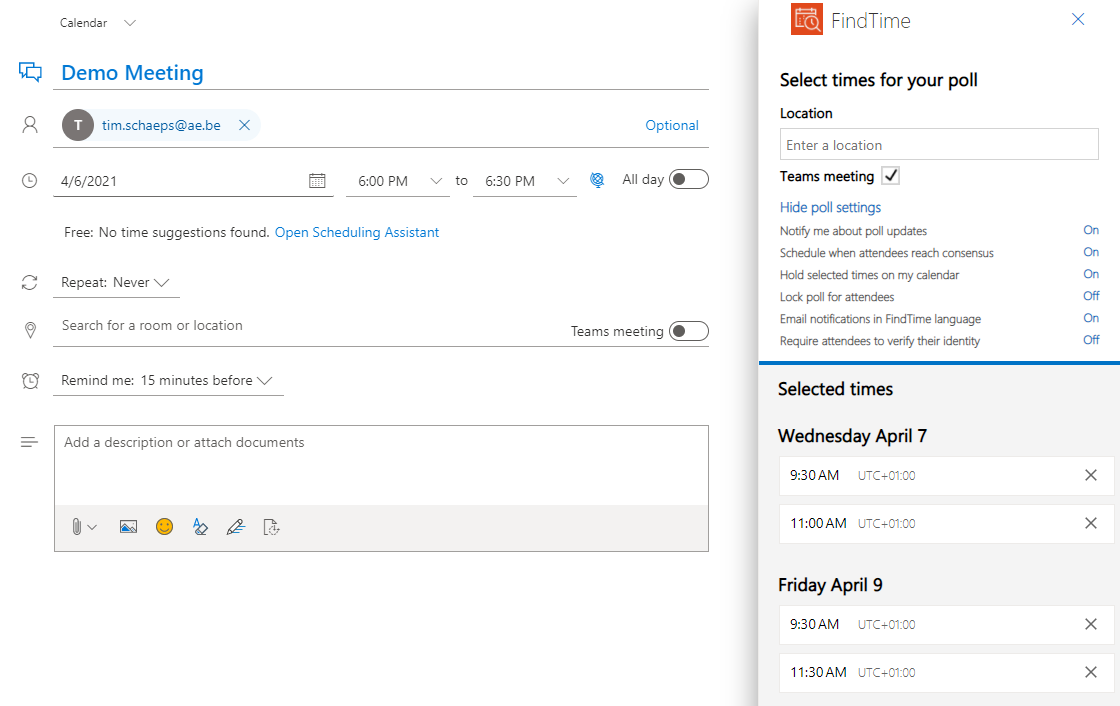 And finally, when you are ready, a mail will be prepared and all you need to do is write a little accompanying text to give context for your "attendees". After that, you can send out the poll and wait for the responses (and confirmation)...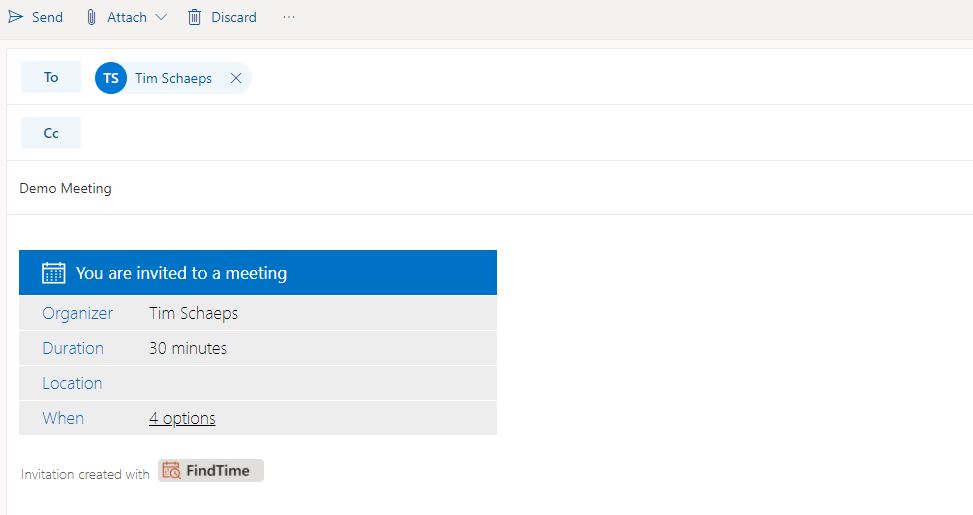 Follow up!
Finally, you can follow up your open polls on https://findtime.microsoft.com
After logging in, you arrive on a dashboard where you can see your polls. You can also edit and cancel the poll.

When clicking on the title, get a more detailed status view of your poll. You can see what was answered and among other things even specify your own preferences.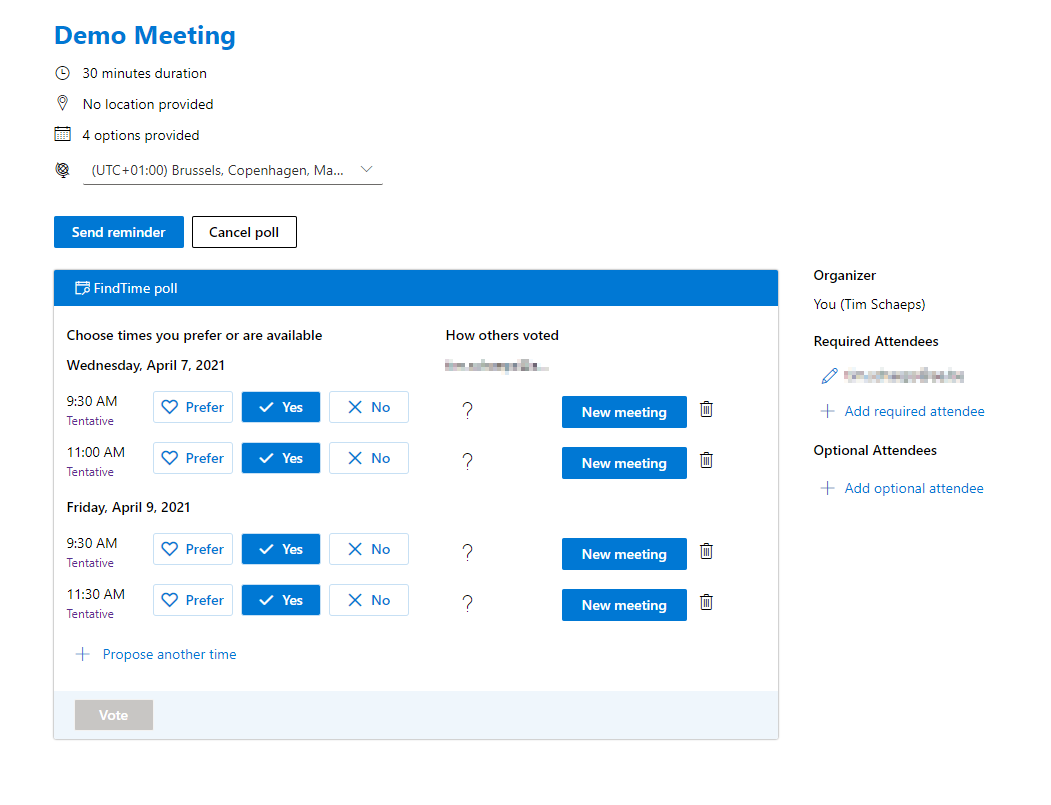 Conclusion
In this post I showed you FindTime, a tool/solution/add-in for office365 that allows you to plan meetings inside and outside of your organization. It will help you find the best moment for all (possible) attendants and this without having to send 30 mails, just to find a suitable moment... It really is a useful tool to become more efficient in planning your meetings and it will certainly save you (a lot of) time! I have no doubt that I will use it all the time!
I hope this helps you too!
Tim