Studying for the Azure Solutions Architect exams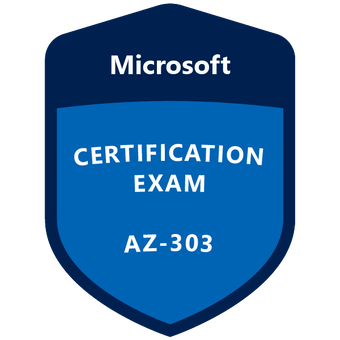 Yesterday I did something I haven't done for a few (4-5) years: I completed an "official" exam! (In this case it was a Microsoft exam)
What/Why
I started studying for the exam in December and because of work (and life) it took a bit longer than expected. (Initially, I was really optimistic and my thought was that I could take the exam in December 2020) I really wanted to take my time for the studying part since I really want to be able to "retain the knowledge after the exam" and to be able to do something with it. I have always done it like that and it has proven to be useful over and over again!
I have been working with Azure on and of for the majority of my professional career, something I thought of that would make things easier... but this was unfortunately not the case as the 'recognition' that I'm trying to obtain, falls in the expert category. The difference, to me, is that I always started searching for a solution for a specific problem that I encountered and I would find a solution most of the time, but not always right away since I had to go through the "explorative phase" each single time. This is not efficient in a professional context and that is why I wanted to "step up" my game...
The idea is that I want to obtain the "Azure solutions Architect" certification . To obtain this certification, you need to complete (and pass with a minimum 700/1000) the following 2 exams:
Exam AZ-303: Microsoft Azure Architect Technologies ➡️ the one I completed yesterday
Exam AZ-304: Microsoft Azure Architect Design ➡️ The one next on my list
AZ-303 focusses on the technology aspect, where AZ-304, focusses more on the design with those (and some additional) technologies.
In this post, I will talk about the materials that I used for the studying aspect of both exams (even though I only completed AZ-303)
Studying for the exam:
Udemy:
At our company, we all have a (business) subscription to (Udemy](https://www.udemy.com/ ) and in this platform, there is quite some content available if you want to study for anything and thus also for Azure certifications. After a quick search, I found the AZ-303 Azure Architecture Technologies Exam Prep 2021 by Scott Duffy and with 12h of content, I was convinced that this would get me a long way. (There is also one for "AZ-304" )
I started my journey and after a few days, I finished the contents (and some exercises), but I didn't feel knowledgeable or even confident that I was ready for the exam.
disclaimer: Since I have a business account at my disposal, I don't have to pay for the courses myself. Now that I looked them up in the regular catalog, I see that they are priced around €70 (AZ-303) and €80 (AZ-304)
Since I mentioned that I didn't feel ready after the course(s) in Udemy, I started looking around. I found a blog by a Cloud advocate at Microsoft Thomas Maurer , who creates very nice study guides for azure certification exams! I immediately started looking into them and decided to use his guides for my own preparation:
As you will see, both pages contain a ton of links to Microsoft Learn, Azure Docs and follow the official overview from the exam websites, which is kind of cool! I won't go into much detail on this, but Thomas his work helped me a lot!!
The only downside, with ready Microsoft Docs all day, is that you get tired of it after a while... This to say that it isn't your regular "page-turner" (and that is not a bad thing as the docs site needs to be concise and needs to provide you with all the info you need)
Azure Architect Technologies and Design Complete Study Guide (book)
And that is why I was enthusiastic on 27/01/2021 to see a tweet by Mark Russinovich , promoting a new book that was just published: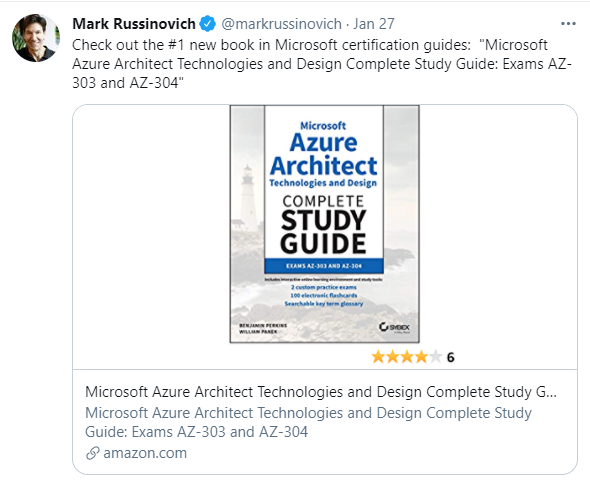 Link to Amazon: Microsoft Azure Architect Technologies and Design Complete Study Guide: Exams AZ-303 and AZ-304
In this book ,written By Benjamin Perkins and William Panek , you get prepared for both the AZ-303 and AZ-304 exams and and I immediately bought it! I read it back to back over the period of a few weeks and I'm happy that I did as the writers have done a very good job of providing you with an, easy to consume, but yet complete image of the materials that need to be learned.
The (700 pages) book comes with
a great learning experience
a lot of information
example questions at the end of each chapter
access to a flash card/test bank site
a glossary in (downloadable PDF)
In the real world, technology and design are intertwined and the authors did a great job, trying to show that in this book. The idea is that you don't study for the one, and then for the other... it is better to grow your knowledge (and skills) in an integrated way and that is shown clearly in this book!
Disclaimer: This book costs you around $60 on the amazon site
conclusion
In this post, I showed 3 ways to study for the AZ-303 and AZ-304 exams and how I studied for the exams. Even though I only completed the first exam, I felt that I had to share this with you all. This approach gave me a good preparation and I feel that I looked at this story from different angles. To me, it is not a choice of one over another, I like to see the three approaches as complementary (as I discovered new things (that I didn't know yet) in each of the approaches.)
To conclude: I thus want to thank all the people that I referenced in this post, you all helped me achieve this! You all did a great job and have paved the way for many more that want to study for this exam!
Now I'm off planning the next exam! 😃
Tim