Certified as Azure Solutions Architect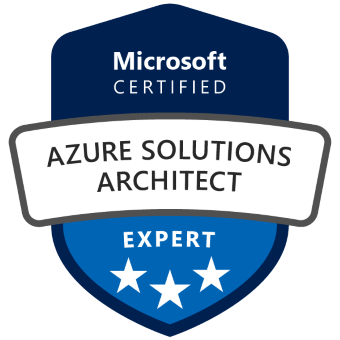 Last week I wrote about studying for the "Azure Solutions Architect exams" and in that article I mentioned that I completed the first requirement for this certification, namely the Microsoft exam: Exam AZ-303: Microsoft Azure Architect Technologies . Today, just one week later, I'm happy to announce that I also successfully completed the "next in line", which is: (Exam AZ-304: Microsoft Azure Architect Design ).
This means that with these 2 "achievements", I can now call myself a Microsoft Certified Azure Solutions Architect! (in the certification context this can be seen as an "expert" certification).
I pretty much used the same approach as for the AZ-303 exam and therefore I'm not going to discuss it again in full in this post. What I can say though is that the exams both test your knowledge "wide and deep" which means that you cannot (or should not) "just wing it". There is a possibility that you will be able to get a decent score if you work with the platform on a regular base. The whole idea of certification (to me) is that it represents that you are proficient in a given domain, that you know what you talk about and that you can come with correct/decent solutions for given problems.
How was it?
Since last week, I got a lot of questions on "how" the exam was, so here is my take:
When studying (like the most of you) didn't know what to expect. In the past, when studying for university exams, there was always a professor/teacher that handled the (his/her) curriculum, which was assembled by him/herself. The idea of attending class during the semester, helped to gather the info that he/she deemed important and as a result it was "easier" to study for the exam and to have (at least) some notion of what could be expected.
In the case of these (new) exams, there is/was no such thing as a teacher/professor that teaches you what he/she deems important. On the contrary, the possible questions that can be asked can be sourced from an ever growing (and changing) source of knowledge and thus it is very hard to determine what is (and what is not) important in the context of the materials that you are studying. Also, finding the materials that cover the contents "just right" is not that easy. As you can see in the post that I wrote last week , I used 3 (independent) sources (udemy, azure docs & a very good book) and I learned a few things:
Each training material is different: each content is assembled by someone that lives in another context and has other attention points. he/she will highlight different topics (in the bigger outlined picture of the exam of course)
There were things in one source that could not be found in the others (and the other way around)
you'll always find another "source to learn from" (which is good, when you know/feel when to stop and take the exam)
you will always wonder whether you are ready: But at some point you just have to take a leap of faith (in yourself)
you'll start the exam's (partially) not knowing what you are running into, but that is ok: if you did the work and took the time to really study, then that will show itself during the exam!
How much did you study?
Knowing that I have worked with azure on and of in the past and that my main activity for that last eight years was not in azure, I found it important to go wide and deep and take the time to really get to the bottom of it. So knowing what materials that I used, you can imagine that I spent a lot of time studying for the last few months. I tried to track it and in my case the amount of work (in hours) lies around 130. Processing the different materials, making summary's (for later reference), revisiting when in doubt all contributes to that... It may seem a lot, but I had a great time learning stuff that I was really interested in! With this "achievement unlocked" I'm now ready for the next step!
Should I do it too?
If you are an architect in a Microsoft context (or have ambitions to become one), then I really encourage you to "do the work"! You will learn a lot and you will get a boost in your personal growth! Looking back, I'm really happy that I did it and looking forward, I'm curious as what is next!
That was it! If you have other questions, you can contact me on twitter /LinkedIn and I'll help you where I can!
Happy studying!
Tim